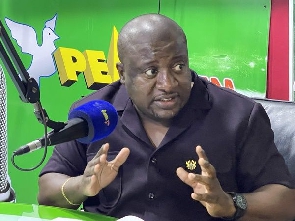 The National Organiser of the governing New Patriotic Party (NPP), Henry Nana Boakye, has called on the people of Kumawu in the Ashanti Region to disregard the National Democratic Congress' (NDC) propaganda that works on the Kumawu roads have stalled after the NPP won the by-election.
He said the NDC after suffering a humiliating defeat in the by-election has resorted to vile propaganda to paint the governing party black in the eyes of the electorate.

The NPP National Organiser reacted to claims by the failed NDC parliamentary candidate in the by-election that the contractor has left the site.

He reacted in a Facebook post dated May 29, 2023.

Below is his post on Facebook
After suffering a humiliating defeat in the Kumawu by-elections, the NDC's vile propaganda machinery has typically gone into overdrive, spreading false information that the contractors working on the roads left the site and abandoned work immediately the election results were declared.

I want to state emphatically that, as seen in the attached video, the contractors are still on site working day and night on the roads for the good people of Kumawu.

We advise the NDC and its propaganda lackeys to move from the archaic style of politicking and direct their energies on learning modern and proper ways of organising elections.