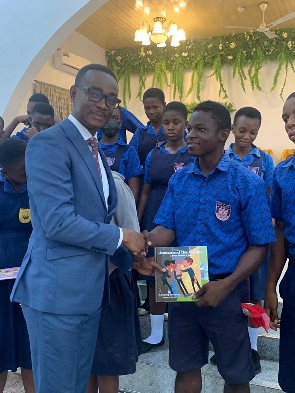 Thu, 1 Jun 2023 Source: Sabina Dzifa, Contributor
Dr Gerald Nyanyofio, a lecturer at the University of Professional Studies (UPSA), has called on students to be agents of change to help drive the nation's development.
Dr Gerald Nyanyofio made this call when he embarked on sensitization at the Arakan, Forces and 5BN Primary and JHS schools in the La municipality as part of activities to commemorate this year's Citizenship Week under the auspices of the National Commission for Civic Education (NCCE).

The citizenship week celebration which is held annually seeks to inculcate in pupils the values of good citizenship and also to remind them of their responsibilities and the roles they could play to build a strong and vibrant democratic Ghana.

Dr Nyanyofio, who was the New Patriotic Party (NPP) parliamentary candidate for La Dade Kotopon in the 2020 elections, admonished the pupils to imbibe and live the values of honesty, loyalty, truthfulness and above all the courage to speak the truth at all times.

He also used the opportunity to donate storybooks to the schools after the sensitization exercise.

The week-long celebration is being celebrated under the theme: "30 Years of Consolidating Constitutional Democracy and Building National Cohesion: The Role of the Ghanaian Child".
Meanwhile, watch a snippet of GhanaWeb TV's latest program that focuses mainly on Everyday People below:





You can also watch the latest episode of People & Places on GhanaWeb TV:


Source: Sabina Dzifa, Contributor