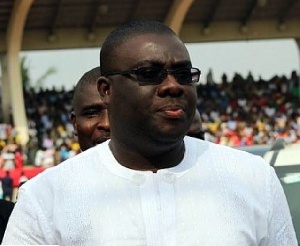 National Organizer of the ruling New Patriotic Party, (NPP) Sammi Awuku has advised former President John Dramani Mahama to heed to the wise counsel coming from the National Peace Council, civil society groups and men of God who are vocal about socio-political happenings in the country.
Mr Mahama has described "some" opinion leaders in the country as hypocrites.

According to him, those "hypocritical" opinion leaders only find their voices of condemnation of certain events in the country when those things happen under an administration of the main opposition National Democratic Congress (NDC), but go silent when similar things happen under the administration of the governing New Patriotic Party (NPP).

Failing to mention names, Mr Mahama, who is touring the Volta Region as part of his campaign to win the flag bearer slot of the NDC ahead of the 2020 polls, told delegates and party supporters at Battor in the North Tongu Constituency, that: "The problem with Ghana is the hypocrisy of some of our opinion leaders".

"Anytime NDC is in power, they are always very vocal", Mr Mahama observed, adding: "When something happens … they are condemning, but as soon as their preferred government comes into power, everything is right: 'family and friends [government]' is okay as long as they are qualified. "You think NPP will be in power forever", he asked those opinion leaders rhetorically.

Mr Mahama's comments came a day after the Chairman of the National Peace Council, Rev. Prof. Emmanuel Asante called on him to apologize to the nation for saying the NDC will match the NPP boot-for-boot with violence in the 2020 polls.
In an interview on Kasapa News, Sammi Awuku stated that Mr Mahama will do himself and the NDC a lot of good if he stops despising the Peace Council and other religious leaders.

"I beg of President Mahama to listen to the wise counsel coming from the National Peace Council, he should listen to the wise counsel coming from these men of God and civil society. I'm saying this because these are the same insitutions former President John Mahama may need them. When he feels that his party has been unfairly treated these are the same people and institutions that he'll have to appeal to. If these bodies advise you and you don't listen, how can you go to them when you need their support one day."