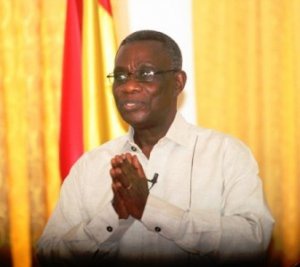 Fri, 20 Jul 2012 Source: radioxyzonline
President John Evans Atta Mills has said that government has used the resources at its disposal for the intended purposes, which is enough grounds to seek re-election in the December polls.
According to President Mills, using the resources of the nation judiciously is the only way his administration can justify the confidence the people have reposed in him.

He was Interacting with the presidential press corps on the eve of his 68 birthday, at the Castle in Osu on Friday,

"I want us to work together. There are ups and downs in life and they should be expected but at the end of the day know that we are doing the right thing. The people of Ghana will have to support you," he assured.

President Mills stated that government will continue working hard to improve the living conditions of the people and also give the country the needed facelift.
The President admonished members of his government to put out their best performance to assure Ghanaians that the right things are being done.

"Let's work hard, let's show them that the resources that they gave us we have used them for the intended purposes. That is the only way we can justify the confidence that the people of Ghana have put in us."

There are reports that the National Democratic Congress will officially launch its campaign to seek reelection in December in August.**
Source: radioxyzonline