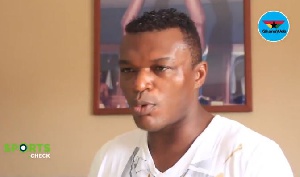 It is often common to have an upcoming player identify a senior who plays in the position he plays as his role model.
You often hear strikers refer to an older striker as someone worthy of imitation, and the same applies to goalkeepers, defenders, midfielders. Even coaches to some extent favor selecting those they share their ideals or philosophies; hence you would have Pep Guardiola reference Johan Cryuff, Marcelo Bielsa and his current assistant coach at Manchester City, Juanma Lillo.

However, shockingly, Ghanaian born former France defender Marcel Desailly has chosen to defy this convention and opt for an attacker as his role model.

Desailly, a 1998 FIFA world cup winner with France has named Argentine and World Football great, Diego Maradona as the player who inspired him as a young boy aspiring to make it as a professional footballer.
That's quite an odd choice for Desailly who also had an established career at club level winning laurels with the likes of Olympique Marseille, AC Milan and Chelsea.

He made the disclosure in an interview with Football Made in Ghana.