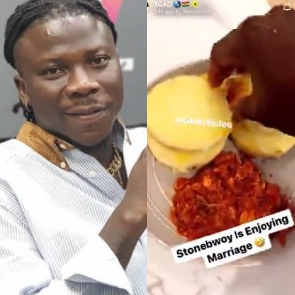 Dancehall artiste, Stonebwoy, has remarked that marriage is wonderful while consuming a meal his wife cooked.
In a video the artiste shared on his Instagram story, he showed his more than 4.2 million followers the yam and egg sauce made by his wife, Dr. Louisa.

"Marriage is sweet… Marriage is sweet. Eh, this is me eating my yam. "They've cooked me with egg sauce," he sang.

While praising the food his wife made, the musician also caught his wife giggling uncontrollably as she slept next to him as he made jokes.

On January 20, 2023, the performer and his wife traveled to Jamaica to lavishly celebrate her birthday. While there, they were photographed relaxing in a high-end vehicle.
According to the artist's caption, while he desires his wife, a marriage cannot be sustained by love alone; instead, it requires a heavenly combination of direction, prosperity, and protection.

"LOVE alone is not Enough! Divine Combination, Protection, Guidance and Prosperity +1 @drlouisa_s," he shared on January 20, 2023.


ADA/BB