Wed, 8 Nov 2017 Source: Prince Anim
MeQasa.com has announced the acquisition of Jumia House Ghana, for an undisclosed amount, firmly establishing the property portal as the country's largest and most trusted.
MeQasa.com's Co-founder, Kelvin Nyame, said: "The acquisition of Jumia House Ghana has placed meQasa.com in a prime position to better serve Ghana's growing real estate market. Our combined businesses will have the scale and resources to transform the way Ghanaians buy and sell property. With the acquisition, we will be the go-to destination for property buyers, renters, for real estate agents, and alike"

Founded in 2013, meQasa.com has grown to become a trusted name in Ghana with over 450,000 views from over 80,000 visits from property seekers every month, looking at over 25,000 listings by more than 1200 agents and developers

Nyame added that together, meQasa.com and Jumia House Ghana, will claim host to over 150,000 visits from property seekers every month and will be in the position to send more leads and convert more sales for their customers.

He added, "Property seekers already trust that MeQasa represent the most effective way for people to research, find and ultimately buy or rent properties. With the acquisition, we're providing property seekers, property agents and property developers a one-stop destination for comprehensive, trusted, and up-to-date property information. We want to be the first website people think of when they are looking to research, buy or rent a property."

He stressed that the company's commitment to deliver exceptional service, quality leads and marketing solutions to drive sales for customers remains a top priority.
"While we double the number of listings available for property buyers and investors, the acquisition also exposes property developers and real estate agents on meQasa to more property seekers than ever before. This ensures that our advertisers receive more leads from meQasa compared to any other portal in the country allowing them to focus on closing more sales," shared Nyame.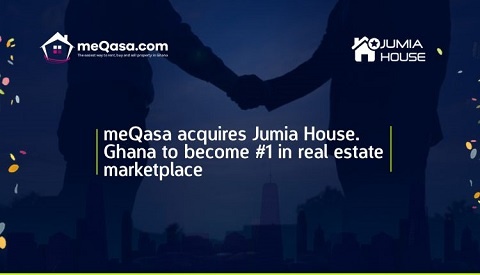 The announcement of the acquisition comes after Frontier Digital Ventures, the leading operator of online classified businesses in emerging countries from Malaysia, invested US$500,000 in November 2015.

The funds were channelled towards developing new marketing strategies and products and services that positioned meQasa.com as the preferred marketing partner for customers and No.1 choice for property buyers and investors in Ghana.
Source: Prince Anim