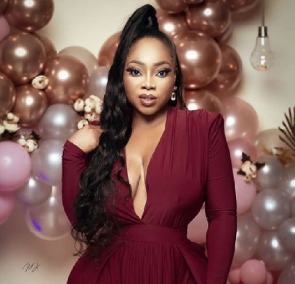 Popular Ghanaian socialite and actress Moesha Buduong has declared her intention to engage in various vices while still identifying herself as a Woman of God.
In a Snapchat post, Moesha Buduong's declaration challenges conventional notions of what it means to be a person of faith by openly acknowledging her inclination towards activities such as drinking, clubbing, and showing off her body.

Moesha positions herself as a "bad girl woman of God," asserting that her faith coexists with her embrace of sensuality and worldly pleasures.

In her own words, Moesha expressed, "I choose to be a woman of God that loves drinking, clubbing, preaching in a bikini, showing off so much skin, dancing erotically, and selling my brand with my sexiness as a bad girl woman of God."

The actress also expressed her desire to sell her unique brand of sexiness to the world while demonstrating her determination to carve out a niche for herself in the entertainment industry.

According to Moesha, "I want to be known for selling my brand with my sexiness. I believe I can be a woman of God and still embrace my sensual side."

She also acknowledged that her new appearance and lifestyle have come at a cost because she has transformed, both physically and in terms of her outlook on life, and she has found herself losing friends along the way.
Moesha shared, "God brought me back without money and beauty, and I lost friends. I know my new look would make me lonely without women, and perhaps women were never meant to be around me."

Moesha further mourned the loss of friendships while noting that she also recognizes that her new path has filtered out those who were not genuinely supportive or accepting of her transformation.

She further noted, "If I lost my friends because I am a new person, then they were never meant to be around me. To all my male friends, we're going to ball around the world and worship God."




ADA/OGB