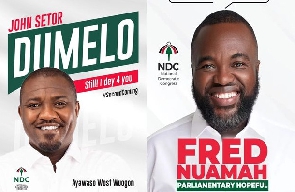 Ghanaian actor and film director, Fred Nuamah has insisted that actor-turned-politician John Dumelo gave him the green light to run for the Ayawaso West Wougon Parliamentary seat on the ticket of the National Democratic Congress (NDC).
According to Fred Nuamah, he called Dumelo two years ago to discuss his decision to run for the seat if John Dumelo intends to withdraw having contested unsuccessfully in 2020. He also stated that the latter gave him permission to run for the seat because he (Dumelo) claimed he was leaving for a different constituency.

Speaking in a panel discussion on United Showbiz on Saturday, March 18, 2023, Fred explained: "John is not my friend; John is my brother so I won't let politics destroy us. I did research, I spoke to my future constituents some years back at the time my brother (John Dumelo) said that he was going to the other side (SALL Constituency).

"This is an open secret, who's in Ghana that doesn't know that John went to SALL?

"So, I called on him… I am saying that I spoke to my brother about two years ago saying that once you want to leave, I do not want our seat here to be vacant.
"So, even with brotherly advice, he told me that Fred won't you look elsewhere because the Ayawaso seat is expensive and I said no, because I live here, I want to go for this seat, and then because of the love we do have for each other," he recounted.

Fred Nuamah went on to say that he had heard rumours about John Dumelo returning to the constituency and wanted to confirm from him but he was unsuccessful.

"Some months ago, I heard rumours that he's coming back. So, I started calling him to find out, but maybe he was busy so he didn't pick up my calls, I called him several times….so, I decided to send him messages, that brother, I have heard you're coming back.

"But before the messages, he picked up one of my calls and I asked him if indeed he was coming back so I can withdraw. And he said I should hold on because he was expecting a call to confirm.
He said that call never came "him till recently that I picked form."

Meanwhile, John Dumelo who is set to contest with Nuamah for the parliamentary slot of the opposition National Democratic Congress (NDC) in the Ayawaso West Wuogon constituency recently said that it was Fred Nuamah rather who had expressly pledged to back his bid to contest for the seat he lost narrowly in 2020.

"We are not friends, as we speak now, we are not friends. We haven't been friends for a couple of weeks now," he told MzGee, host of the United Showbiz programme on UTV a week ago.

"At no point did I tell Fred that I am not contesting in Ayawaso West Wuogon, at no point," he before adding that all claims that he (Dumelo) had opted against running were untrue, incluing one attributed to Yaw Sakyi
"That is a lie. I never had a conversation with Yaw Sakyi about Fred Nuamah. Never, I can never give Fred Nuamah my blessings, when he knows I am coming to contest in Ayawaso West Wuogon," Dumelo added.

Dumelo described Fred's decision to release his campaign flyer hours after attending his February 3 private birthday bash as a betrayal and a stab in the back for someone he has known for over 20 years.

Watch the latest episode of The Lowdown below:


Meanwhile, catch up on the concluding part of Francis Addai-Nimoh's interview on GhanaWeb TV below:





AM/SARA