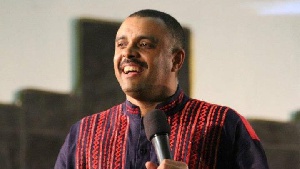 The Board of Trustees of the National Cathedral has responded to contents of the resignation letter of one of its members, portions of which have been published in the media this week.
The August 2022 resignation letter of Bishop Dag Heward-Mills found its way into the media with some of the reasons he gave for leaving generating lots of commentary around the project which has recently been at the center of some controversies.

Heward-Mills resigns as a trustee

Heward-Mills' August 2022 resignation letter as a member of the Board of Trustees of the National Cathedral contained a number of reasons why he was opting out.

Chief amongst them are issues of corporate governance breaches, government unilaterally acting on major decisions without recourse to the trustees and public uproar over accountability in respect of the use of public funds for the project.

Chairman of Board of Trustees responds

In an official release signed by the Chairman of the board, Apostle Prof Opoku Onyinah, the Board said some of the issues Heward-Mills raised in his letter had been addressed in the October 15 reply to his resignation as well as a visit to his office.
In clarifying a number of issues, the release emphasized that the Cathedral project was a partnership between the state and the church and that each party knew their exact roles from the outset.

"The National Cathedral is a partnership between the State and Church, and the roles of the state have been clearly specified in the partnership: appointment of the Architect, the Land, the Secretariat and Seed Money for the preparatory phase of the work," the release read.

The architect for the project was selected by the president even before the trustees were appointed and that the contractors were also selected through a transparent international procurement process which the Board of Trustees approved.

Concluding remarks on work of trustees

In its conclusion, it addressed how the Board of Trustees worked and related despite coming from different churches.

"One of the key strengths of the National Cathedral Project is the Board of Trustees, made up of some of the key, pioneering leaders of the church in Ghana, and whose work on the project is contributing to improved inter-church relations in the country. These church leaders, the Board of Trustees, have pioneered and/or lead vibrant churches with global reach and impact.
"These churches and their leaders not only have deep-seated theological differences, but also different understandings and approaches to the development of the National Cathedral. The challenge of such a group is that individual leaders, with a history of implementing their own organizational /denominational programs and vision, have to be part of a collective decision-making process where their preferences might not always prevail. Specifically, this means that no one leader can have all their preferences, methods, and approaches accepted. In this changed and unfamiliar context, some would prefer to leave the Trusteeship.

"This notwithstanding, we are grateful that all the Trustees -- including Bishop Dag Heward-Mills who voluntarily left the Trusteeship -- still remain committed to the vision of the National Cathedral and want to see it completed to God's glory," the statement concluded.

Read the full press release below:



SARA