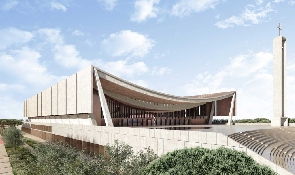 The National President of the Ghana First Crusaders Movement, Delasi Justice Havi, has advised government to make decisions that reflect the choices of Ghanaians.
To him, this current government has served their interest for far too long rather than that of Ghanaians they are obliged to serve.

Speaking on another episode of e.tv Ghana's Campus Dialogue Series with Sefah Danquah, Justice Havi said that political parties as well as leaders are a representation of the masses adding that they must satisfy them rather than themselves.

"When we talk about governance and political leadership, it is the trust and confidence of the people that has been wielded and put together into the hands of few. Let us know that political parties are just one of those vehicles that propel the development of a nation and so when you find a political position and by virtue of the fact that the people have their powers and mandate to you.

...it is just imperative and reasonable enough that whatsoever decision you're taking, you'll consider how negative and positive it will affect the people who gave you power. Let your decisions reflect the choice of the people," he shared.
Justice Havi further bemoaned the country's practice of democracy as a governance principle despite being touted as one of the best democratic countries in the world.

"So, you don't just get up one day and do things as you feel. When we talk about democracy, the democracy that we've been celebrating and if you care to know Ghana has been mentioned across the international front as one of the best democratic countries but how have we carried this concept of democracy? It is the rule of law and not the rule of self-conviction," he stressed.

The activist's lamentation is as a result of the recent controversies surrounding the construction of the National Cathedral which he believes that the criticism from the public is a well-deserved one as it will compel the government to have a change of mind about the project.

VKB/MA