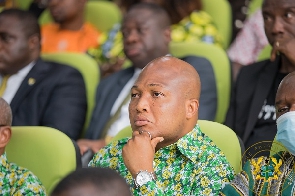 North Tongu Member of Parliament, Samuel Okudzeto Ablakwa, is projecting that the cost of the National Cathedral project will hit a billion dollars or more by the time construction is completed.
Ablakwa has since last year waged a dogged campaign for accountability on the construction of the facility which is currently officially estimated to cost US$350 million.

He is concerned particularly by the amount of public funds dedicated to the project despite earlier government communication that it will be funded by the Christian community.

"My analysis is that this project is more than a billion dollars, it is more than a billion dollars by the time we are done paying for the recklessness of president Akufo-Addo," he said in an interview on Accra-based Radio Gold (January 18).
Meanwhile, Ablakwa has praised Bishop Dag Heward-Mills for his candour in addressing issues related to the project in his leaked resignation letter of August 2022 as a member of the Board of Trustees of the National Cathedral.

The lawmaker added that even if there was a national consensus on the need to build the facility, "will the wisest thing to do be not to look for a greenfield, an unencumbered land?" he asked lamenting how public and private structures were demolished to make way for the project.

SARA/DO