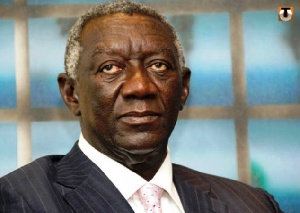 The GFA Normalization Committee is extending support to H.E President John Agyekum Kufuor's (JAK) Cup scheduled for Sunday.
A release signed by the president, Dr Kofi Amoah, said that the Normalization Committee will support the organization of the JAK Cup with an amount of 25,000 cedis.

He said the Committee will further provide some logistics to assist with the organization of the match scheduled to involve Asante Kotoko and AshGold at the Baba Yara Stadium, Kumasi, on Sunday, January 6.

The JAK Cup match, is one of the lined-up activities expected to raise GH¢80 million to cater for the various developments and leadership projects under the JAK Foundation.

Dr Kofi Amoah said this was in recognition of H.E J. A. Kufuor's achievement as president of Ghana, which spans beyond sports.

He said the Normalization Committee believed in the ideals of the former President in ensuring the country in general and sports in particular, thrived under his watch.
The match will be graced by H.E John Kufuor, the Asantehene Otumfuo Osei Tutu II and among others.

The game is in honour of the former president John Agyekum Kufuor, who turned 80 on December 8, 2018.

It also forms part of activities marking his 80th birthday celebrations.

As former Chairman of Kumasi Asante Kotoko, President Kuffour's contribution to Ghana football cannot be overemphasized. Among other things, President Kuffour outdoored Ghana brand of football to the expectant global audience in 2006 after Roger Milla proclaimed to the world during the 1990 Italy World Cup the coming of some magical football national team, the Black Stars of Ghana.

He instilled pride and honor for playing for the national team and introduced the winning incentive bonus system that got our players to die for the nation
He made funds available for the polishing up of the Black Stars and for the first time in the history of Ghana football psychologist and nutritionist were added to the handlers of the players.

President J. A. Kuffour was the first President to build a national stadium from the ground up under Ghanaian LOC supervision; The Kumasi and Accra stadia were both donated by foreign companies and were also in quite dilapidated states. He did not only build the brand new Tamale and Essippng stadia, he completely refurbished the dilapidated Kumasi and Accra stadia into modern edifices

JAK's contribution to ghana football crosses the physical, spiritual and emotional realms.... Kufuor oversaw the hosting of the best ever African Cup of Nations Football Tournament in 2008 as per CAF's own judgement in writing.

The GFA appreciates and adores the significant and foundational architecture JAK laid for Ghana and we join the organizers of the J A Kufuor Cup in saluting him for these achievements for our nation.