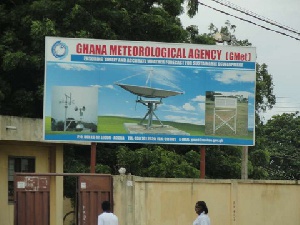 The heavy rainfall experienced in Southern Ghana, and parts of the country's middle sector last night, does not indicate the beginning of the rainy season.
Southern Ghana is presently in what is termed a "transitional period", but has not yet started experiencing the first and major rainy season.

Mr Tetteh Portuphy, Senior Meteorologist at the Ghana Meteorological Agency, told the Ghana News Agency, that last night's down pour was the result of accumulated atmospheric moisture.

"It is usual for heavy rainfall to occur, even when it is not the rainy season," he said, adding, "this is because moisture keeps gathering in the atmosphere".

Mr Portuphy said it was possible for the south to experience some rain-fall just before the coming week-end.
The senior meteorologist said last night's rain was heaviest in Accra, which recorded 80 millimetres of rainfall.

The lowest was that of Tema, which recorded 0.6 millimeters of rain-fall.

Other areas that experienced the rainfall were Aflao, Axim, Ada, Pokuase, Saltpond, Takoradi and Axim.

For the middle belt of the country, Koforidua, Mankesim, Kumasi, Ketecrachi, Wenchi and Sunyani were the places which were also affected by the rain.