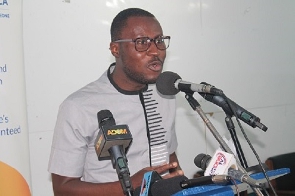 SEND Ghana has called on the government of Ghana to convert the COVID-19 levy into a public health emergency fund.
This comes on the back of President Akufo-Addo announcing that there will be no scrapping of the 1% COVID-19 levy during his 29th address to the nation on covid-related activities and declaring an end to it as a health emergency.

The Deputy Country Director of SEND Ghana, Emmanuel Ayifah, speaking on Starr Today on Starr FM, said that the NGO and other CSOs are looking forward to and pushing to see the COVID-19 health levy changed to a health emergency fund to assist with unforeseen health crises instead of disbanding it.

"The government should not disband COVID-19 Health Recovery Levy but try to convert it into a public health emergency fund and also let Ghanaians see how much was left in the Trust Fund so that we can all rally around to establish the Fund. So that in the event of any future eventuality which is bound to happen, the issue is that once that happens, it is going to help us we don't have to run helter-skelter looking for money because the Fund will be critical in helping to increase resilience in Ghana's health system and also prepare for us to respond in times of public health emergency. Once we do that, I think that it will rather help us as a country."

In 2022, SEND Ghana and many other CSOs in the country urged the government to establish a health emergency fund. This, they believe will save and stabilize the economy should there be any unplanned calamity concerning health.
You can also watch the latest episode of People & Places on GhanaWeb TV:





ABJ/WA