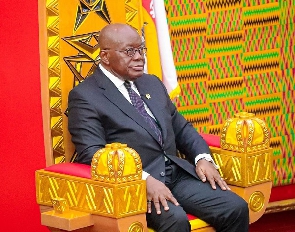 An economic and financial analyst, Korsi Dzokoto, has called on the government to show leadership or risk losing out on an IMF deal by close of April.
Ghana is seeking a US$3 billion External Credit Facility (ECF) from the International Monetary Fund (IMF), but must first restructure its debt in order to secure the credit facility.

Also, the country has officially requested debt relief from its bilateral creditors under the G-20 Common Framework Initiative, which includes members of the Paris Club (including the United States) and non-Paris Club members such as China, with China and its agencies holding about $1.7 billion of Ghana's $5.5 billion bilateral debt.

However, it remains uncertain as to whether Ghana can leverage on its ties with China to speed up the process.

Speaking on Monday, March 13th, 2023, edition of the Class Morning Show with Korku Lumor, Mr. Dzokoto blamed Ghana's inability to secure the facility on poor leadership regarding management of the country's economy and the continuous stay of Finance Minister, Ken Ofori-Atta in office.

"Ghana's Finance Minister, Ken Ofori-Atta, benefits directly from the economic crisis, hence his reluctance to step down," he alleged.
He stated that "The finance minister should have accepted responsibility for his actions. All countries experiencing debt crisis had their finance ministers step aside, but in our case, the opposite is true. All capital markets have closed on Ghana, but the finance minister remains unwavering."

According to him, the country's economy will have seen a turnaround if Mr Ofori-Atta had resigned.

"There's a point where we have to slow down on borrowing, and weak debt management is the problem. Borrowing is good, excessive borrowing is bad. Our finance minister had been cautioned several times that our debt level is unsustainable, but the government kept borrowing," he lamented.

Touching on the government's quest for a slow debt repayment plan from China, Mr Dzokoto stressed that the country has not been able to put forth a credible plan to merit Chinese support as far as debt cancellation is concerned.

"The Paris Club and the Chinese are both aware of the misappropriation of funds originally borrowed for economic development. China is a powerful financial contributor, but the Chinese have always had a commercial mindset.
"The Chinese will have to do an equity swap. This means that they will acquire some assets from Ghana for a number of years," he noted, adding that "Creditors consider a variety of factors before granting a release. Factors such as people's risk, how the process works, the governance structure, systems in place, and liquidity risk, among others, but Ghana is unwilling to comply with the measures laid out by the Chinese."

Mr. Dzokoto concluded by calling on Ghana's leaders to learn more from the country's current situation, by adopting home-grown solutions in order to create the needed changes.

"Let's look back at the resources we have and make the most out of it. The IMF is not the best option," he said.