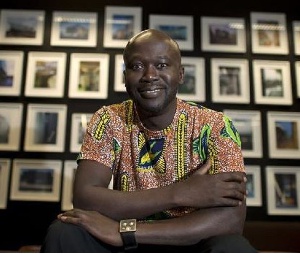 The Executive Director of the National Cathedral of Ghana, Dr. Paul Opoku-Mensah has described as distressing attacks on the person of Sir David Adjaye, architect of the facility.
According to him, beyond his expertise in designing the structure, Adjaye has also given the National Cathedral a global reputation because of his own personality and work experience.

"The reputation of the National Cathedral has gone global because of Sir David Adjaye, who without doubt is one of the talented architects in the world today.

"The founding director of the Smithsonian Museum of African American Culture recalls many instances when they were building the museum … when David's 'brilliance' contributed to the success of the project," he told a gathering on January 2, 2022 at the grounds of the facility which is still under construction.

He continued: "As a Ghanaian, I have to admit that I find it distressing that facts about his engagement will be so distorted to create a reputational damage about this talented so of the land."

Opoku-Mensah also dismissed claims that Adjaye and Associates had been overpaid for their services to the National Cathedral cautioning against such claims especially when it came from Members of Parliament.
"While projects of this nature will always have discontent, we are nonetheless concerned about the misrepresentations particularly when it comes from Members of Parliament.

"For instance, the continued misrepresentation of the contract to the consultants is worrying as none of the amount bandied around comes anywhere near the contract amount.

"Rather than 34% that they said we'd paid the architect, actually, the contract figure is 12.5% when the Ministry of Works and Housing allows for 15.5%. And the 12.5% will not change irrespective of what happens to the total cost.

"More critically, the contract is not for an architect, but for a set of consultants' services involving 15 international and Ghanaian firms of which Sir David Adjaye Associates is the lead consultant."

SARA