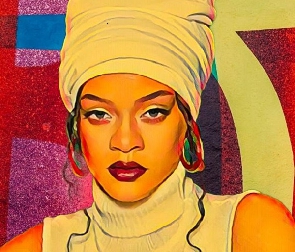 With her undeniable talent, relentless work ethic, and keen business acumen, 34-year-old singer and entrepreneur Robyn "Rihanna" Fenty has cemented her place in history by becoming the youngest self-made billionaire in America, according to Forbes.
This extraordinary accomplishment is a testament to her unwavering dedication to her craft, her astute understanding of the fashion industry, and her ability to identify and capitalize on emerging opportunities in the market.

Rihanna's multi-faceted success can be attributed to her flourishing cosmetics line, Fenty Beauty, her illustrious music career, and her innovative lingerie line, Savage X Fenty. Her net worth stands at $1.4 billion due to a slight decrease from the previous year's valuation of $1.7 billion.

Her music career has been a major source of income for Rihanna, with hit albums and sold-out tours generating millions of dollars in revenue. But it's her forays into the beauty and fashion industries that have truly propelled her to billionaire status.

Fenty Beauty, which she launched in 2017, has become a global phenomenon, for its inclusivity and wide range of shades for women of all skin tones. The brand has since expanded to include a variety of products, from concealers to lip glosses, and has been a major contributor to her fortune.

Similarly, her lingerie line Savage X Fenty, launched in 2018, has become a popular destination for women looking for comfortable and sexy undergarments.
These are the three assets that have helped Rihanna achieve billionaire status:

#1 Fenty Beauty

Her stake in the cosmetics company is worth $1.1 billion

Rihanna, the third R&B and hip-hop artist to become a billionaire, earned the majority of her $1.4-billion fortune from her cosmetics line, Fenty Beauty.

Launched in 2017 as a partnership with LVMH, the company's products are available on Sephora shelves and online in over 150 countries, with 2020 revenue exceeding $550 million.
In 2022, Fenty Beauty launched in eight African countries, including Nigeria, South Africa, Botswana, and Kenya, as part of a strategy to expand the business and capitalize on opportunities on the continent.

#2 Savage x Fenty

Her stake in the lingerie line is worth $270 million

In addition to Fenty Beauty, Rihanna's lingerie line Savage x Fenty has also achieved billion-dollar success. In February 2021, the brand raised $125 million in a funding round led by Neuberg Berman, valuing the company at $1 billion. This brings its total venture capital funding since its launch to an impressive $310 million.

The company which is 30-percent owned by Rihanna launched in 2018 in partnership with TechStyle Fashion Group, boasts investors such as Jay-Z's Marcy Venture Partners and private equity firm L. Catterton, which includes Bernard Arnault as a shareholder.
#3 Rihanna's net earnings from her career

With a successful career spanning across music and acting, Rihanna has amassed a significant fortune, with estimates placing her net earnings at approximately $30 million. However, this figure has yet to be officially confirmed by the artist herself or by reputable sources such as Forbes.

What you should know

Rihanna is expanding her Fenty brand even further with the filing of two applications for Fenty Hair with the U.S. Patent and Trademark Office.

This move signals her intention to launch a comprehensive haircare line that will complement her already successful Fenty Beauty and Savage x Fenty lingerie lines.
Fenty Hair collection will encompass a wide array of hair accessories, including hairbands, bows, clips, ribbons, scrunchies, wigs, curlers, pins, brushes, and combs, further solidifying the Fenty brand's dominance in the fashion and cosmetics industries.