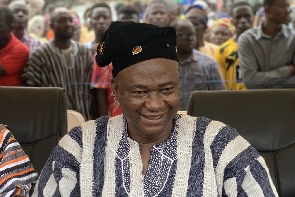 Mohammed Hardi Tufeiru, Member of Parliament for Nanton has opened up on how he got involved in a bloody accident last Friday (March 31) on his way to the House for a crucial vote on three taxes.
The MP, who doubles as deputy agric minister admitted to Accra-based Citi FM that he was over speeding and that resulted in the accident.

He recounted how he was driven to Parliament from the accident scene in an Uber adding that he was heading to the chamber to vote when some colleagues saw the state in which he was and subsequently took him to a washroom for medical attention.

Among others, he was injected, before an incision was made at the top right side of his eye where he sustained a deep cut. In the midst of all this, he restated his desire to be in the chamber to vote on the three bills.

"You may not really understand what was actually happening and I am sure you are also mindful of the important bills that we needed to pass… honestly speaking, I don't know how you are going to feel about it or whoever is going to feel about it.

"I was for Ghana, I was for my party, my government and I needed to do whatever to get the bill passed," he told EyeWitness News host, Umaru Sanda Amadu (April 3).
When the host asked: "Did you feel that your life was less important than the bill?" the MP responded: "yes, yes… if you want you can take it like that. I am fine."

The three new taxes that were eventually passed with the help of his vote were: Excise Duty Amendment Bill 2022, the Growth and Sustainability Levy Bill, 2022, and the Income Tax Amendment Bill 2022.

The Minority had stifly opposed the passage of the Bills, challenging the voice vote decision by the Speaker of Parliament.

It was the challenge that led to a head count of members present which meant every MP on the Majority side was needed to defeat the NDC's 136 MPs who were all present.

Watch the latest episode of The Lowdown below:


Kindly embed the poll below in your stories:



SARA