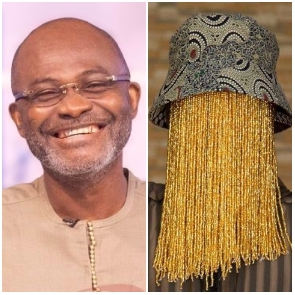 Anas Aremeyaw Anas is a Ghanaian investigative journalist and private detective who is known for his undercover journalism and anti-corruption work. He is known for wearing masks in public to conceal his identity, and for his willingness to take on powerful figures in African society.
Anas has conducted numerous high-profile investigations and has received international recognition for his work.

Some of his most notable investigations include exposing corruption in Ghana's judiciary system, uncovering human trafficking networks in Ghana and Nigeria, and revealing the exploitation of Ghanaian cocoa farmers by multinational corporations on the Ghana and La Cote D'Ivoire border.

He has also worked on investigations into illegal logging, illegal fishing, and the abuse of children in orphanages.

Anas has won numerous awards for his journalism and was named one of TIME magazine's 100 most influential people in the world in 2015. He continues to be a prominent figure in the fight against corruption and human rights abuses in Africa.

The Ace investigative journalist was almost blameless until recently when people began questioning the rationale behind his investigative works, his character and his modus operandi or means of conducting his work.
Here are some famous times, Anas Aremeyaw Anas was put under the microscope for corruption check;

Ken releases 'Who watches the watchman' after Anas' 'Number 12'

Briefly after the release of Anas and Tiger Eye PI's Number 12 video, the investigative piece captured alleged corrupt practices in Ghana's football administration, a scandal which led to the collapse of the Kwesi Nyantakyi-led GFA administration, Assin Central legislator, Kennedy Ohene Agyapong, bitterly questioned the methods of operation by Anas, accused the Tiger Eye PI journalist of indulging in corruption and promised to expose him, hence the release of "Who watches the watchman" by Kennedy Agyapong. "Who watches the watchman" premiered in 2018 .

The video was met with mixed reactions, while some regarded the documentary of Kennedy Agyapong as a desperate attempt to discredit Anas Aremeyaw Anas, a section of the public bought into the idea that the investigative journalist may be corrupt after all and began to question his methods. Arguably, since the release of "Who watches the watchman", every subsequent expose' by Anas has been scrutinized intensely.

Elizabeth Ohene on "Galamsey Economy" by Anas
Veteran journalist and politician, Elizabeth Ohene questioned the rationale behind Anas' "Galamsey Economy". According to her, the investigative piece which promised to expose the powerful faces behind illegal mining popularly known as "Galamsey' failed to do so.

She also questioned the timing of the release of the video since suspects captured in the video were recorded in 2018 but the documentary was released four years later in 2022. The timing, made Elizabeth Ohene question if really, Anas Aremeyaw Anas had the interest of Ghana at heart like he claims.

"If, as it turns out, this incident with Charles Adu Boahen was filmed back in 2018, why have they kept it under wraps all this while and why have they chosen this time, November 2022, almost five years later, to release it? If, in their judgement, they saw what transpired in that hotel room in the United Arab Emirates as so reprehensible, why have they kept it for almost five years?", Elizabeth Ohene wrote.

This question by Elizabeth Ohene became a topic of discussion for many media outlets in the country.

EAN/WA