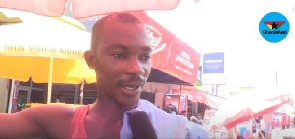 In the early days of the COVID-19 pandemic, many Ghanaians expressed fears and uncertainties about what the future held for them.
While some sought repentance, others aimed to spend all their life savings in the event that the world came to an end.

With the virus spreading rapidly, a trend started on social media called 'by June de3 na obia ewu,' being a joke about the impending doom of the country.

Read the full original story as published by GhanaWeb on Friday, May 8, 2022, below: :

As it is typical of Ghanaians to create humour in every situation, no matter how serious or life-threatening it is, the outbreak of the coronavirus pandemic in the country was not spared.

When the country's case count began increasing a trend started on social media and has gradually made it to the lips of many people.
"By June de3 na obia ewu" to wit "Everyone will definitely be dead by June" put the fear of coronavirus in many when it started some weeks ago, encouraging people to stay cautious.

Almost two months after the country recorded its first two coronavirus cases, we have now recorded 3,091 cases with 303 recoveries and 18 deaths.

June is just a few weeks away and we can only wait to find out what the situation in the country will be by then.

Ahead of that time, however, GhanaWeb asked some Ghanaians how they will prefer to spend their last days on earth if indeed everyone would be 'wiped off' the face of the earth by June and they had interesting responses.

With the little time on their hands, most people established that they would use the opportunity to repent from their sins and seek God.
"If at this moment I haven't accepted Jesus Christ then I need to do that now. If it is indeed true that by June we will all die, then I have to repent," someone said.

"From now till June, I really need to repent and give my life to God. This way I'll be able to inherit the kingdom of God," said another.

Some also intend to spend all their life savings within that short period before they die.

"As for me, I'll make sure I spend more money before I die," one person said with another adding that "What I will do is spend the little money I have left."

But for one young man, repenting or spending money isn't part of plans for his last days on earth. He will rather intensify his usual sexual escapades before June.
"If this is the case then I won't spare the girls. I will spend my last days having fun with lots of girls before I die," he stated.

Share your news stories and ideas with GhanaWeb




To advertise with GhanaWeb


Meanwhile, watch the latest episode of People and Places on GhanaWeb TV below:





NW/AE