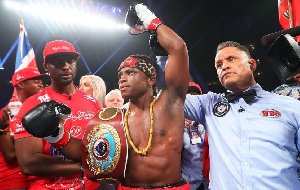 On this day 28 April 2018(Exactly 2 years ago today) Isaac Dogboe got off the canvas after a first-round knockdown to capture the WBO Super Bantamweight championship via 11th-round technical knockout over the favored Jessie Magdaleno in an excellent fight from Liacouras Center in Philadelphia.
Magdaleno, who was a minus-225 favorite, scored a knockdown with a sweeping left hand that landed on the side of Dogboe's head. Things looked bad for the 23-year-old Ghanaian early, but he had a better round in the second, lost ground in the third, but really began to take control in the fourth.

He was finding a home for his right hand and he never stopped throwing hard shots to the body. In the fifth round, Dogboe landed a crushing counter right hand that dropped Magdaleno like a ton of bricks.

Magdaleno made his way to his feet, but he wasn't all there.

Dogboe kept a measured, but consistent assault coming his way with more right hands and body shots. Magdaleno made it through the round, but Dogboe had snatched away the momentum and he sustained the advantage over the next four rounds. Magdaleno showed heart in trying to regain the movement and zeal he had early, but the impact of Dogboe's body punching appeared to be limiting his opponent's movement and will to continue.
In the 11th round, Dogboe looked to have landed a body shot low. Magdaleno reacted, but the referee did not step in. Dogboe paused momentarily but kept punching when there was no break. A left hook dropped Magdaleno. He complained about the low blow, but it was ruled an official knockdown. Magdaleno again rose to his feet. Moments later, Dogboe whacked away at Magdaleno on the ropes until the champion fell to his knees and accepted the referee's decision to stop the fight.

Dogboe immediately raised his arms in celebration .

After the fight, Magdaleno showed great sportsmanship in coming over to congratulate Dogboe.