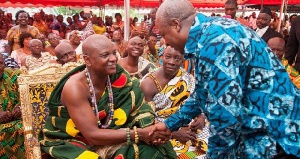 Former president John Dramani Mahama, months back, praised the Agbogbomefia of the Asogli State, Togbe Afede XIV, for returning an amount of over 200,000 cedis to the state.
The sum was in lieu of ex-gratia (end of service benefit) that had been paid the paramount cheif during his tenure as chairman of the Council of State (between 2017 – 2021).

According to Mahama, it was disheartening that despite Afede's good gesture which was going to inure to the benefit of the public purse, he had rather faced abuse from a section of the public.

The video in which Mahama is heard extolling the virtues of Afede, tasking him to stay the course and continue to do what he deemed was right, is being circulated especially by pro-government accounts on social media.

"When a traditional ruler and a former member of the Council of State returns a gratuity that was paid to him because he thinks it was not necessary and he didn't deserve that money that was paid to him, he should receive acknowledgements and gratitude and not insults.

"Togbe, you are a man of principle, you are a man of conviction and we all admire you for that and so don't change and continue being yourself," Mahama said to applause from the crowd gathered for the 2022 Asogli Yam festival.
Most of the pro-government persons sharing the video are challenging Mahama to learn from the Paramount Chief and return ex-gratia sums paid him.

The former president has, himself, become a subject of public debate after his promise to scrap ex-gratia payment to Article 71 officeholders if he is reelected to serve a final term in office in the 2024 elections.

He has, however, rubbished calls for him to return all previous ex-gratia sums he has received during his time in public service, which suggestion he has described as "silly."

Mahama is also on record to have stated that he has spent all the ex-gratia he has previously received and as a pensioner who hold an office of no-profit, it was warped logic to ask him to refund statutory payments made to him.


Watch the new episode of The Lowdown below:



You can also watch this episode of People & Places on GhanaWeb TV here:



SARA