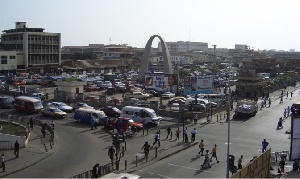 Traders at the Pedestrian Shopping Mall at Odawna-Circle in the Greater Accra Region have commended the Accra Metropolitan Assembly (AMA) for the ongoing decongestion exercise in the capital.
They believe that the exercise will compel defiant traders who sell on the streets to have no option than move into the market to safeguard sanity in the city.

The decongestion exercise across the capital is to prevent traders from turning the streets into a market place and also to ensure cleanliness in the city.

All these are steps to help achieve President Nana Akufo-Addo's vision of making Accra the cleanest city in Africa.

The traders say the exercise would go a long way in boosting their businesses and increasing their sales since the public would be forced to come into the market to patronize their goods.

They have therefore called on the city authorities to intensify the exercise and also consider the state of the market since that is the only place the discharged and stranded traders are supposed to settle for their business.
The Welfare Committee Chair for the Pedestrian Shopping Mall, Benjamin Okyere, disclosed to Onua FM in an interview that, flooding is the major problem facing the market.

He ascribed cause of the flooding to the recent construction of flyover in the area by the past government, stating that the drainage systems in the area had been channel through the market while the gutters are not big enough to contain the floods whenever it rains.

This, according to the Welfare Committee Chair, has restrained shop owners to sell or restock their shops, which is precluding them to re-invest into the market.

That is why they end up in selling on the streets, Mr Okyere posited.

"We tremble anytime it rains especially in the night because we fear to lose our capital or livelihood," he said, calling on the government to consider renovating or reconstructing an ultra-modern market for them.