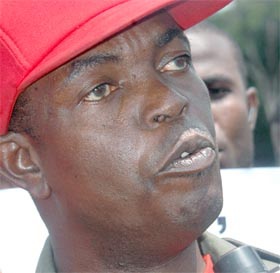 Sun, 24 Oct 2010 Source: peacefmonline
Managing Editor of the Insight newspaper, Kwesi Pratt Jnr, on Saturday October 23, threw caution to the wind and descended rather heavily on Madam Ursula Owusu, Vice-President of FIDA International when he virtually described her as someone who is 'indecent', 'insolent' and full of nauseating 'arrogance'.
Mr. Pratt believes Ghanaians have for far too long endured the insulting behaviour of someone, who despite holding a sensitive position like (Vice) President of FIDA, can launch verbal vituperative at a sitting President (Prof Mills).

"This is Ursula Owusu again on radio speaking in impeccable Twi… 'The President (Mills) abandoned his son and that his food was eaten by dogs.' Somebody should tell me that this one too is decent. How indecent can you be? And we tolerate this?" he asked rather angrily.

FIDA is the Spanish acronym for the International Federation of Women Lawyers (Federacion International d'abogadas). The International Federation of Women Lawyers (FIDA) was founded in 1944 by a group of women lawyers from five American countries. It expanded to various countries over the years.

FIDA Ghana was set up as an affiliate of the International Federation of Women Lawyers by a group of dedicated Ghanaian Women Lawyers in 1974.

Their main goal is to improve the lot of women and children and strengthen them in the overall developmental process of Ghana.
The Insight Managing Editor, speaking as a panelist on "Alhaji and Alhaji", a current affairs programme on Radio Gold, questioned the wisdom in selecting Ursula Owusu as the running mate of NPP flagbearer, Nana Akuffo Addo, for the upcoming 2012 elections; if reports in the grapevine are to be believed.

Claiming to have a good rapport with the NPP Flagbearer, Mr. Pratt called on Nana Addo to rather 'distance this woman' from his campaign, because of her insufferable arrogance.

"…there's even some suggestion somewhere that she is likely to become the running mate of Nana Addo Dankwa Akuffo Addo. I know Nana very well and I don't think Nan would make that mistake. And indeed, if I were Nana, I would distance this woman from my campaign, put her far away from the campaign because she's annoying NPP people, she's annoying NDC people, she's annoying everybody with her arrogance and the type of statement she makes. I've been very careful not to comment on her behaviour over a long period of time," Mr. Pratt said.

The CPP firebrand, whose tongue-lashing of Ursula Owusu knew no stopping, was of the opinion that her behaviour and recent conduct was giving FIDA a bad name, and wondered why nobody from the organisation has called her to order.

"Everybody is getting fed up with the insolence, arrogance and insulting behaviour of this woman. She happens also to be the President of FIDA, a respectable organisation. Look at all those who've become Presidents of FIDA; look at the respect which is accorded them…FIDA's name is being dragged in the mud…I cannot believe that all this fine decent women, who have made significant contribution to national development are sitting back and allowing this lady to operate the way she does as their president. I cannot believe it. What is happening in our country? What is happening to our values? I cannot believe it," he screamed.
Source: peacefmonline