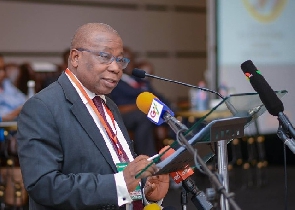 The Minister for Health Minister Kwaku Agyeman Manu has said the current vaccine shortage in the country is due to accumulated debts at the Ministry.
The Minister disclosed this when he appeared before Parliament on Friday, 10 January to address the recent shortage of vaccines that have hit the country.

Dr Agyeman Manu also assured the House that the country will receive supply of vaccines within the next two to three weeks.

He said: "I stand here and assure the House that within two to three weeks we will get vaccines probably before that.

"I can't lay my hand on specific dates but even probably before that, we may get the vaccines earlier than two weeks."

The Minister explained that: "Throughout the period we have paid close to $6.4 million dollars equivalent to UNICEF who supplies us the vaccine."
He further explained that: "At the time when I went to the ministry, I was so worked up trying to negotiate with Gabby and our donors to actually give us vaccines whiles we started paying for the rest.

"We inherited over 15.8-million-dollar equivalent in vaccines and we even hand recorded close to about 358 infections in that particular year, 2016."

The Health Minister also assured the House that the vaccine shortage will not recur again.

"The assurance I will give and I can give for the first time in the Chamber is that this will not happen again and I will advise that you help me in my advocacy to get adequate funding for vaccines even the health insurance budget," the Minister appealed to Parliament.

Meanwhile, President Nana Addo Dankwa Akufo-Addo has said the current shortage of some childhood vaccines in the country is of great concern to him.
This shortage, if prolonged, according to the President, will affect negatively Ghana's Childhood Immunisation Programme, which has been recognised as one of the most successful in the world.

"The WHO has only recently expressed worry about a steady decline in measles vaccination coverage globally, because of the concentration on the fight against COVID-19.

"In accordance with our desire not to become part of this global trend, Government has taken steps to ensure that stocks of these vaccines are procured and supplied, as a matter of emergency," the President told Parliament on Wednesday, 8 August 2023, in his State of the Nations Address.

The Ghana Health Service, he noted, has developed an elaborate programme to catch up on children who have missed their vaccinations immediately stocks arrive.

Nana Akufo-Addo encouraged all parents and caregivers to ensure that eligible children are vaccinated, once this programme begins adding that "No child should be denied access to vaccination."