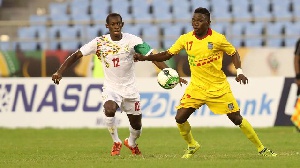 Benin and Niger have both advanced to the semifinals of the 2017 WAFU Cup of Nations after the former claimed a 2-1 win in their final Group B match at the Nduom Sports Stadium on Tuesday evening.
The Squirrels leapfrogged to the top of the log on six points and will face Nigeria in the semifinals later this week, while the Menas - who played much of the match with just nine men - finished level on four points with Senegal but advance on head-to-head results and will face Ghana in the final four.

Senegal could only draw 0-0 with Ivory Coast in the other Group B match played simultaneously at Cape Coast Stadium. Had the Teranga Lions won, they would have joined Benin in the semis.

Niger got off to the perfect start, claiming the lead as early as the fourth minute when Victorien Adebayor struck home from a powerful shot direct from a free kick.

Jacques Bessan almost came up with a quick reply for Benin, but his long-range effort in the sixth minute flew over the crossbar.

The Menas were dealt a blow on the quarter hour mark when they were forced to replace injured goalkeeper Daouda Kassaly after a lengthy spell for treatment. Mainassara Yahaya came off the bench to man the posts.
However, the replacement 'keeper put his side in deep trouble just five minutes after coming on, as he committed a reckless foul outside the box and was shown a straight red card.

Niger were further reduced to nine men in the 35th minute when attacker Mahamadou Souley picked up his second yellow card and was sent for an early shower.

The Squirrels needed just two minutes with a two-man advantage to level the scores at 1-1, with defender Rodrigue Fassinou scoring an equaliser.

There was no less than 10 minutes of added time at the end of the first half, and in the course of it Niger needed substitute and outfield player Ganiyu Hutmanu, who was playing as a makeshift goalkeeper, to make a fine save.

Despite being down to nine men, Niger started the second half strongly and Adebayor almost claimed his brace in the 57th minute, only to be denied by a fine save from Steve Glodjinon.
Benin created chances, but Niger never lost their threat up front - Adebayor seemed to be on a one-man mission to add to his early goal, but he was repeatedly denied by the goalkeeper or unable to find the target.

Yet just when it seemed Niger would hold on for a draw against the odds, Benin struck a decisive goal in the 87th minute through substitute Jules Elegbede. It proved to be the match winner and clinched a semifinal berth for the Squirrels.

Niger (1) (A Adebayor 4')

Benin (1) 2 (R Fassinou 37', J Elegbede 87')

Niger coach: Francois Zahoui Gagui Victor
Niger: 16. D Kassaly (1. M Yahaya 15'), 3. D Lebne, 5. G Adama, 15. A Katkore, 18. K Dankwae, 11. A Adebayor, 12. S Dela, 8. Y Daouda (4. I Mansour 55'), 23. M Boubacar, 20. B Hainikoye (14. G Hutmanu 23'), 17. M Souley

Benin coach: Oumar Tchomogo

Benin: 1. S Glodjinon, 12. B Mamah, 3. R Fassinou, 18. P Counou, 5. S Junior, 8. S Mama, 10. M Koukpo, 15. I Ogoulola (4. G Houngbedji 61'), 13. O Agnide (9. I Saliou 81'), 14. J Bessan (19. J Elegbede 69'), 11. C Gomez