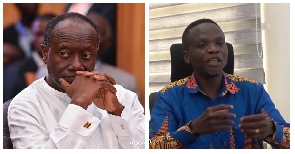 A Development Economist and a Research Fellow at the University of Ghana, Dr George Domfeh, has posited that the current economic woes of the country cannot be blamed on Finance Minister Ken Ofori-Atta.
George Domfeh claims that there isn't any data or statistic to support the claim that Ken Ofori-Atta is to blame for the nation's economic situation but rather Ghana's debt to Gross Domestic Product (GDP) ratio.

In an interview with Neat FM, he asserted that the allegations made by former president John Dramani Mahama that the finance minister is to blame for the economic troubles citing his reckless borrowing should be discounted since they are unsupported by facts.

"I'm talking about what former president John Dramani Mahama said, that because of Ken Ofori-Atta's reckless borrowing, that is why we're in economic crisis. I don't agree with him.

"It is very difficult to believe such an assertion because there's no data and nothing to support it. Our problem is the debt-to-GDP ratio. Debt to GDP was 182 some years ago," he said.

He continued that during Mahama's administration, the country had to turn to the IMF for a bailout because of debt to GDP, and when asked about it, the former president wouldn't attribute that to careless borrowing.

"Kufuor left it at 32 in 2008 and when Mahama was also in government it was 71 and finally 72.6 in 2015 which took us to the IMF for a bailout.
"I'm sure when you ask him about it, he will never say it is because of reckless borrowing that's why we went to the IMF at the time.

"Indeed, when this government came to power we were still in IMF, and since 2016 the debt to GDP ratio was always high. It was in 2017 that things started to change.

So, if you say it is because of reckless borrowing that is why we're in an economic crisis then you're not being fair to the finance minister," he added.

Former President John Dramani Mahama speaking at the Chatham House in London on Friday, January 27, on the theme "Africa's Strategic Priorities and Global Role," blamed government reckless borrowing for the current economic crisis.

"We had been raising the red flag since 2019 about the government's reckless borrowing. Going onto the Eurobond market every year for 3 billion dollars and not investing it in the productive sectors of the economy and using most of it for consumption and that is what has ended us where we are," he said.

AM/SARA