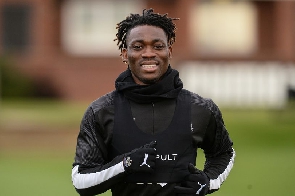 Ghana's Ambassador to Turkey, Francisca Ashitey-Odunton has said that her outfit is yet to locate the specific hospital where Ghana winger Christian Atsu is receiving treatment after being pulled out of the debris.
Christian Atsu was trapped in the rubbles after an earthquake destroyed hundreds of houses in Turkey, with over 6000 confirmed deaths.

On Tuesday, it was reported that Christian Atsu and some of his teammates who were trapped in the 7.7 magnitude earthquake have been rescued by the search team and taken to the hospital.

However in the latest update, Ghana's Ambassador to Turkey, Francisca Ashitey-Odunton disclosed that the embassy has not been able to establish contact with the player.

"We're yet to establish contact with Christian Atsu because of the confusion around but we know he's been pulled out of the rubble and sent to the hospital," Francisca Ashitey-Odunton said on Asaase FM on Wednesday.

"But we don't know which particular hospital he's been sent to. We're working with the ministry of foreign affairs in locating his hospital and the ministry has assured me that they'll find him," she stated.

She added that efforts have been put in place to establish contact with members of the Ghanaian community in Turkey and would keep updating Ghanaians on the latest findings on the former Black Stars player.
"What we're doing is that we together with the Ghanaian community are getting Ghanaians who are stranded in Istanbul and Ankara. I must say members of the Ghanaian community have been very accommodating. If we hear any news about Astu, we'll let Ghanaians know," Francisca Ashitey-Odunton said.



Watch the full story about Christian Atsu being trapped in the rubble





JNA/KPE