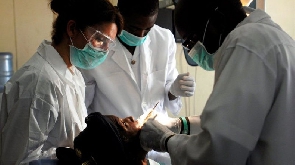 Some Ghanaian medical students studying in Cuba on government scholarships have complained of being stranded because the government has failed to pay their monthly stipends.
The students claim that they are struggling financially and as a result, they are forced to rely on friends from other nations, according to a 3news.com report.

One of the students who spoke with Johnnie Hughes on 3 FM lamented that they haven't received payment for about eight months, which makes it challenging for them to keep up with their academic obligations.

"We are now living in hell. We are currently depending on our friends in other countries for money, however, we are not able to go back to the same friends for money. We feel neglected and it is a very tough situation we are going through" he said.

Another student also added that the Ghana embassy has been telling them they are working on it for the past eight months but nothing is being done.
"The agreement with the Scholarship Secretariat was that at the end of every month, the students will be given stipends. "Literally we are to receive $250 per month."

The students who are training to become doctors have assured that despite the challenges they are going through, will not prevent them from coming back to serve Ghana.

AM/SARA