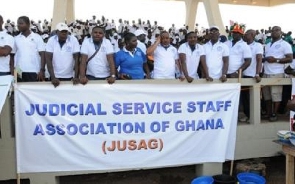 The Judicial Service Staff Association of Ghana (JUSAG) says until their concerns are addressed, the declared strike will continue unabated.
President of JUSAG Samuel Afotey Otu told Kwabena Agyapong on Frontline on Rainbow Radio 87.5Fm that they have embarked on strike over the government's failure to approve reviewed salaries and other allowances of its members.

Afotey stated that the cost of living has become unsustainable for them, and they are struggling to make ends meet.

He told the host that it has become extremely difficult for them to buy food, that they have no money for transportation or fuel, and that they are unable to come to work in these conditions.
"We don't have money for fuel, we don't have money to buy food or even pick trotro, so we can't come to work. We can no longer work under these conditions, so we have declared a strike and demand that our concerns be addressed or we will remain on strike."

He lamented that the government has remained unconcerned, and dishonest in attending to their conditions of service and other emoluments owed the members of JUSAG.