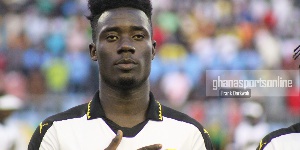 Hearts of Oak Supporters Union spokesperson Paa Kofi Sunsum insists star man Winful Cobbinah will snub rivals Asante Kotoko.
The Local Black Stars gem has linked with a move to the Porcupine Warriors to make one of the few players to cross from their sworn rivals.

Sunsum believes the midfielder will not opt for Kotoko but rather chase a lucrative and career-propelling move abroad.

''Winful Cobbinah, as intelligent as he is, will not make that mistake by moving backwards to Kotoko, he is for European market and not Kumasi,'' Sunsum told Kumasi based Fox FM.
''Kotoko must be intuitive of the fact that Charles Taylor was not that intelligent enough in making a decision for himself that is why he chose to move to Kotoko instead of Switzerland when he even had better offers aside that from Switzerland.

''Cobbinah as of now has several offers from overseas on the table aside that from Premier League side Huddersfield and I know he is too intelligent and won't choose Kotoko over English premiership.''