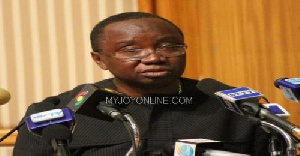 Ghana's democracy cannot survive if the violence that marred the Ayawaso West Wuogon by-election on Thursday, 31 January 2019 is not checked and nipped in the bud, a former Minister of National Security, Mr Totobi Quakyi has said.
Some heavily-armed National Security operatives shot and wounded supporters of the opposition National Democratic Congress (NDC) at the private residence of the NDC's candidate about an hour into the by-election.

Some civilians were also beaten up while a member of parliament, Sam George was slapped in the melee in the full glare of some police officers.

President Nana Akufo-Addo and several local and international civil society groups have condemned the violence.

Adding his voice to the condemnation, Mr Quakyi, in an open letter to President Akufo—Addo, described the scenes at the residence of the NDC candidate at La-Bawaleshie as "utterly disgraceful and well-deserving of the condemnation of all true patriots of this nation."

"More importantly, those events were but another expression of pervasive lawlessness, impunity and disregard for due process that our democracy certainly cannot survive if left unchecked. Nothing less than the very stability of this nation is at stake, for the next step from this point takes us over the edge and into the abyss," he added.
He noted that the actions of the armed mask men were unprofessional if they are, indeed, national security operatives.

The former security capo said: "The reckless use of live firepower against unarmed citizens; the attempt to enter a private residence without a warrant; the physical assault of a sitting Member of Parliament; the threats against election officials, party agents and independent observers; and the battery of uniformed service members who sought to intervene in these acts of intimidation - these are entirely inconsistent with the professional and operational guidelines of the national security apparatus known to me."

Mr Quakyi called on Nana Akufo-Addo to commission a public investigation into the circumstances surrounding the events at Ayawaso West Wuogon so that justice may have its day.