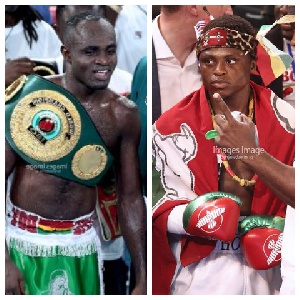 Emmanuel "Gameboy" Tagoe couldn't help himself, taking shots at Isaac Dogboe and his father/trainer Paul Dogboe at their low point.
Dogboe lost his WBO world super bantamweight title to Emanuel Navarrete last Saturday via unanimous decision. Mexico's Navarrete was in fine form, using his size, length and supreme conditioning to keep Dogboe at bay and wear him down over the 12-rounds. It was a shocking—and dominant—performance by the unknown challenger.

Dogboe's valiant effort in the first loss of what has been, thus far, an impressive pro career earned kudos stateside, but Tagoe was unimpressed.

"If not the fact that boxing is becoming easy neither Isaac Dogboe nor his father would be parading themselves as boxer and trainer respectively," he told Happy FM.

"Isaac Dogboe's father doesn't qualify to be a trainer and for Dogboe he is not a true boxer."

While some might attribute Tagoe's comments to jealousy, others believe it is a deluded, inflated sense of self that has led the Asamoah Gyan-promoted pugilist to deride his compatriot. Tagoe has yet to fight an elite opponent, let alone challenge for a world title or defend one. His finest victory to date was a unanimous decision win over shopworn, 40-year-old Paulus Moses of Namibia.

Nevertheless, Tagoe's harsh words shouldn't come as a surprise. He and Team Dogboe have been engaged in a battle of words for the better part of 2018.
One might have expected him to throw his support behind his fellow Ghanaian boxer when 23-year-old Dogboe challenged for his first world title, versus Jessie Magdaleno in April.

Instead, he told UTV, "If Dogboe wins, he won't fight me, so I'm praying he loses so that when he comes, he'll face me."

Why Dogboe would have to move up three divisions to fight an unknown entity in Tagoe is a head-scratcher, but the comments didn't stop there. Last August, Tagoe was received with jeers after he told the crowd at a public press conference that he was superior to Ghana lightweights George Ashie and Richard Commey.

Commey, ranked number-one by the IBF, second by the WBC and seventh by the WBO, will fight for the vacant IBF world lightweight title on February 2nd versus Isa Chaniev. In other words, Commey isn't just a step up for Tagoe, he's an entire flight of stairs.

Tagoe will have his own chance to shine on the international stage in 2019. He was recently picked up by New York-based DiBella Entertainment. The outfit also promotes the aforementioned Commey.