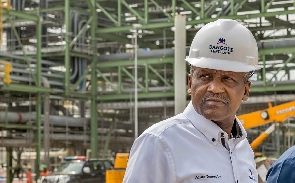 Nigerian billionaire and Africa's richest businessman Aliko Dangote is on the brink of adding another billion dollars to his already impressive net worth, as shares of his cement company soar on the back of record earnings.
The surge in Dangote Cement shares, driving Dangote's net worth toward the $20-billion milestone, reinforces the cement magnate's formidable stature in Africa's business arena, cementing his dominance as the richest man on the continent for the foreseeable future.

According to the Bloomberg Billionaires Index, which tracks and compares the fortunes of the world's 500 wealthiest people, the Nigerian billionaire businessman's net worth has risen by nearly $1 billion ($958 million) since the start of the year, from $18.7 billion on Jan. 1 to $19.7 billion at the time of writing this report.

The performance of his 86-percent stake in his flagship company, Dangote Cement Plc, a leading cement manufacturer with a total production capacity of 51.55 million metric tonnes of cement per year across 10 countries, is responsible for the $958-million increase in his net worth.

Since the year began, the company's share price has increased by more than 9.2 percent, from N261 ($0.567) to N285 ($0.619), bringing the market value of Dangote's 86-percent stake in the cement maker to $9.06 billion.

Dangote Cement records profits surpassing $800 million in 2022

The recent surge in Dangote Cement's stock price can be attributed to the company's impressive financial performance.
The leading cement manufacturer reported a 4.9-percent increase in profits, from N364.44 billion to N382.31 billion ($830.3 million), due to higher revenue and successful negotiations that reduced its tax expense from N173.9 billion ($377.7 million) to N142.7 billion ($310 million) compared to the previous year.

In keeping with its long-standing tradition of rewarding shareholders with substantial dividend payouts, the company's board has recommended a dividend of N20 ($0.0434) per share, which is consistent with the dividend paid to shareholders in 2022.

The final dividend payout is scheduled for April 14, and Dangote, with his majority stake in the cement company, is set to receive a dividend of N295 billion ($640.6 million).

Watch the latest edition of BizTech and Biz Headlines below:








Watch the latest edition of Business Moments below: