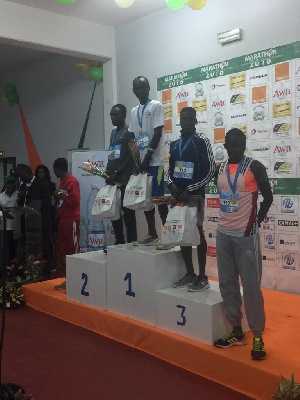 Sun, 18 Nov 2018 Source: Clenard Bawa
2011 Milo marathon winner and the current long distance coach for the University of Ghana, Akuka Williams Awunime came third (3rd) in the 3rd edition of the International Marathon of the District of Abidjan (MIDA).
Raja Lagble of the University of Ghana came 4th in the same tournament.

The marathon which was held at Abidjan on Wednesday, November 15, 2018, saw over 20,000 participants from Africa and beyond.
Akuka earlier this year won the Benin International marathon with Raja Lagble coming second.
Source: Clenard Bawa