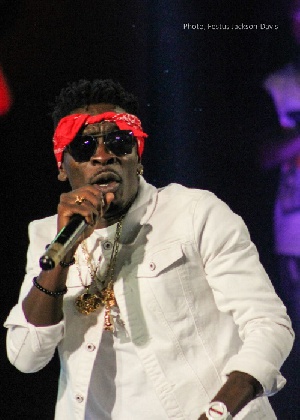 If words really do become actions as they say, then Ghanaian dancehall artist Charles Nii Armah well known as Shatta Wale knew exactly what he meant when he said, "I will always be a fighter, …I'll always prove you wrong till the day I die" when he released his 2016 single Prove You Wrong.
Since bursting unto the music scene in 2012 after a long musical hiatus, the dancehall artist has continuously stayed on the lips of many therefore helping him build a cult following.

Perhaps going by the popular saying that, "You are as good as dead if no one is talking about in showbiz", Shatta Wale has over the years mastered his craft and known when to pull the trigger to get the country talking. Although I might not like some of his antics, the dancehall artist remains one of the most talked about musicians in the country.

His antics started right after the 2013 Vodafone Ghana Music Awards where he openly registered his dislike at the fact that Kaakie won over him in the Best Raggae Dancehall song of the year category.

Since then, he has never kept mute over issues perhaps winning him the popular adjective, "Most controversial dancehall artist".
Releasing almost a 100 songs in a year with at least 10 of the becoming hit songs, it is obvious Shatta Wale has over time hijacked the Ghanaian music scene putting most others into hibernation. No disrespect to any other artist but virtually no major show happens in the country without the dancehall artist.

Mounting almost every major musical platform in the country but for the Ghana Music Awards, Shatta Wale till date has the highest number of hit songs released in 2017.

It must however be admitted that there is a seemingly tough competition by songs by reunited music group Wutah, hit singes from Ebony, Sarkodie, Stonebwoy.

Which Ghanaian artist is on your top of list at the moment?