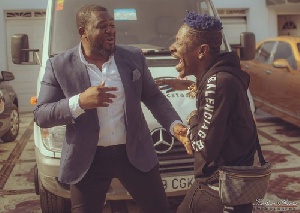 If a soothsayer had told us once that Shatta Wale and his manager, Bull Dog would one day be having this much fun again, and reminiscing old memories as these photos depict, we wouldn't have believed it, considering the 'beef' they had some few years ago, when they decided to stop working together.
Although Bull Dog had once mentioned in an interview that, he would never work with Shatta Wale even if paid $100,000, he's now indirectly working with Shatta Wale as he's the A&R manager at Zylofon Music, same label Shatta Wale got signed unto some few weeks ago.

Well, this would not be the first time, we are seeing a picture of Bull Dog and Shatta Wale, as earlier this year, we saw their first picture together, where the reunion happened and they were seen holding hands here but Bull Dog later came out to say that, he was forced by his boss Nana Appiah Mensah to take that picture with Shatta Wale.

These new photos at least proves that, this time around, no one forced him to talk to Shatta Wale or take a picture with him, as it looks genuine and their happiness looks real.

www.ghbase.com is certain that, they have both been waiting for a moment like this, where they would put their differences aside and just be happy as friends, now under the same label with a common objective.
See the photos below: