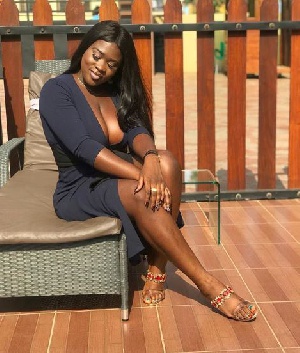 Wed, 2 May 2018 Source: Emmanuel Arhin
Female songstress Sista Afia has publicly denied allegations that her latest single "Slay Queen" is directed to actress/model Moesha Boduong
In an interview with Sista Afia, she was asked if "Slay Queen" was inspired by the latest comment made by Moesha on CNN, about the hardship it is for young ladies to survive without the support of men, Afia in reply said,

"First of all, I felt so bad for Moesha because I know how it feels when the whole of Ghana starts attacking you for some comments you make on interviews and I respect the fact that she went ahead to apologize to us, that is bravery.

As to why "Slay Queen" was released, I am a musician and I like to follow trends, and since Slay Queen has been one of the popular terms in the country, i decided to get a song by that title.

However, "Slay Queen" was written and produced way before Moesha's comment on CNN became public. Just that, we had a lot in our camp that slowed the release, so its never a reply to Moesha or directed to her".
Sista Afia just released the video for "Slay Queen" which features DKB, Playboy, to mention but few, and the video brings to live the actual livings of some so-called Slay Queens in the country.

Watch the video from below, and dont forget to share your comments with us


Source: Emmanuel Arhin