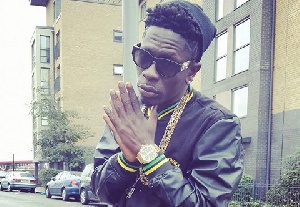 Shatta Wale seems to have the Ghanaian music industry at heart as he passionately asked all to help promote the local music to compete with the world.
The Zylofon signed artiste pleaded with industry players to eschew greed and egocentric since according to him such attitudes keep destroying the good talents Ghana can boast of.

In his pursuit to make the global dream a reality, Wale has urged music fanatics to rally their support behind Zylofon to make the long awaited global ambition see the light of day.

"My Name is Shatta Wale and all I want is Freedom from Greed and Selfishness. This is what is killing the Game…I choose to be different because I want change .I want to see Our Industry compete with the world, We speak of Unity but we don't practice it. I believe with Zylofon we stand A Great chance of making this happen and trust me I would give them My all to make this happen because SM2DAWORLD is Same as GH2DAWORLD.
The Dream is the same ..U Fight me U Fight yourself. You fight Zylofon you fight your own progress.#ChangeisHere #ZylofonIsChange

#Storm #BossBaker" Shatta Wale posted on his Facebook Timeline.