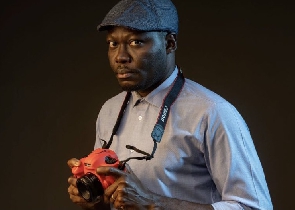 Entertainment journalist and pundit, Arnold Asamoah-Baidoo has asked Lawrence Nana Asiamah Hanson (Bulldog) to take it easy and slow down on his attacks on Dancehall musician Shatta Wale.
Sharing a screenshot of Bulldog's post on his Facebook wall, Arnold who has on countless occasions been slammed by Shatta Wale for his assessment of showbiz-related issues and figures, suggested it was imperative Bulldog exercised restraint.

"I need to call my boss Nana Asiamah Hanson to have Abotr3! Nana Abotr3 nkoaa!" Arnold's post, Thursday, read.

In the last couple of days, Bulldog and Shatta Wale have engaged in altercations after Bulldog said Black Sherif's album would be bigger than Shatta Wale's and Sarkodie's.

"I woke up this morning and I was like wow; this month of October is a serious month because we have three of our artists releasing. Black Sherif just released his album.

"Sarkodie will be releasing his albums in a few days and Shatta wale will release. Now listen, from the top of my head I said Black Sherif will do better than all of them," Bulldog said in the interview on Hitz FM.
Reacting to it in a Facebook post, Shatta Wale "Eeerrrhhh if Blacko's album will do better than us kwraaa, we like and we hear… at the end of the day Ghana wins" and added that the music business they are all doing is about "money matter."

The firebrand musician further described those critics as "foolish people" and advised them to "find something to do" and make money in their own way" than engaging in what he said was "nonsense."

In another submission, Bulldog, a former manager of Shatta Wale, admonished the musician to put away his pride and "honour those who honour him."

In what seems like a jab to Shatta Wale, Bulldog in a Facebook post wrote that Shatta's life savings cannot afford him a dinner date in the home of American music producer, DJ Khaled.

This came after Khaled, in an Instagram post, shared that he hosted Grammy award-winning Nigerian musician, Burna Boy in his home.
That post elicited a reaction from Arnold who is of the view that Bulldog should take it easy on Shatta Wale.








BB