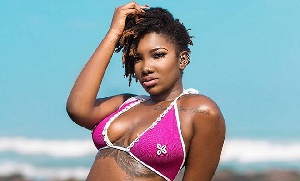 Ebony Reigns (Priscilla Opoku -Kwarteng) may be dead, but her legacy is intact. Today February 16, on the occasion of her 21st birthday, RuffTown Records, the imprint which she called home, has released a new song from the Maame Hw3 star to honor her memory.
Titled "Kokonsa Police", the joint produced by Cutrus Beatz and drawing inspiration from Paapa Yankson's classic, "M3ns3i Me Din" addresses rumour mongers who can't wait to spread falsehood about people. This subject matter is especially apt, considering the fact that throughout her career, she had to deal with unsavoury gossip due to how she chose to go about her art. Or perhaps more coincidental following the backlash of criticisms and name calling that have succeeded her demise.

"I'm not bothered by what anyone will say, I overlook it, I haven't seen it", a section of the lyrics say.

Author of multiple hits and the acclaimed BONYFIED album, Ebony is widely tipped to win Artist of the Year at the forthcoming Vodafone- sponsored Ghana Music Awards ceremony despite her unfortunate and rather sudden death.
Ebony met her untimely death on Thursday, February 8, when the jeep she was travelling in, slammed into an oncoming VIP bus. The accident, which happened on the Kumasi – Sunyani road, also led to the death of a military officer identified as Francis Atsu Vondee and a female acquaintance identified only as Frankie, who was also on board the Jeep.

Listen to "Kokonsa Police" below: