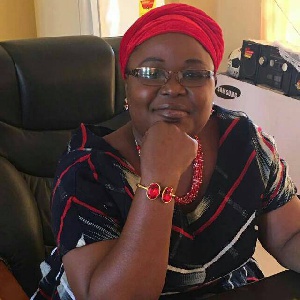 Sat, 10 Feb 2018 Source: Muniru Ibrahim
Government is set to construct a dam in ten selected villages each within the Nadowli-Kaleo District of the Upper West Region as it rolls out the "One village, one dam" project.
The one village one dam policy is one of the Akufo-Addo administration's flagship programmes aimed at ensuring all year-round farming in the three regions of the north, through the construction of irrigation dams in every village in that part of the country.

Engineers and some experts including the District Chief Executive of Nadowli-Kaleo, Katherine T. Lankono have toured the 10 beneficiary communities for assessment and sensitization on the programme.

Speaking in an interview with Progress Radio, the DCE said, ''Between Monday and today Tuesday, I have been in the field to sensitize about 10 communities about the upcoming project one village one dam. The dams are not many. We are just getting 10 per district and we have to do prioritization depending on the community needs.''

Madam Katherine said the communities are excited about the project and are ready to accept and welcome the workers.

''…The community people are excited and are ready for the commencement of the project. They have shown us the proposed sites and I think that when the technical people are in ….they're ready to support them with their local content in other to speed up the work and I hope that they finish all the 10 before the rains start.''
She explained that the essence of the sensitization tour was to give communities time to agree on sites that are litigation-free.

She disclosed that government will not pay compensation to land owners or communities for the sites that would be used for the construction of the dams.

The DCE further said after the construction government will sensitize the communities on how to use the dams profitable.

She reiterated government's commitment to delivering on all its promises and called on the people of Upper West Region, particularly Nadowli-Kaleo District to have faith in the government.
Source: Muniru Ibrahim