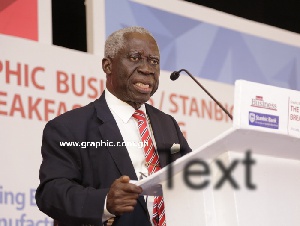 Senior Minister Yaw Osafo-Maafo has revealed that 50 companies are to begin production under government's One District-One Factory (1D1F) programme before the end of 2018.
"So far 15 projects have been approved for implementation under the 1D1F… We expect that by end of this year, 50 of those which have been appraised will be in production," he said.

Addressing a gathering at the Graphic Business/Stranbic Breakfast Meeting in Accra on Tuesday, 31 July 2018, the Minister said 781 expressions of interest have been received, out of which 632 have been reviewed and 332 are currently being processed for financial support.

The former Minister of Finance said some banks have expressed commitment to provide funding for the projects which "will have to be appraised by the banks because the 1D1F is all in the domain of the private sector, not the government".

"What the government has decided is that it will absorb 50 per cent of the interest rates of these 1D1F companies so that determining what is bankable will be done by the professionals. When you have been appraised, shortlisted and you have qualified, the cost of money to you will be shared between the government and yourself," he added.
The current government, under the leadership of President Nana Addo Dankwa Akufo-Addo, seeks to address employment and other economic problems by undertaking a massive industrialisation campaign across the country, which will equip and empower communities to utilise their local resources in manufacturing products that are in high demand, both locally and internationally.

This will allow the country to reap the well-known rewards of industrialisation, such as gains in efficiency, increase in agricultural and manufacturing output; a reduction in the reliance on imports and increase in the production of consumer goods and food availability.

The emphasis of the 1D1F programme is on input/raw material producer groups, agro-processing and business; textiles and clothing, ICT, pharmaceutical and cosmetics; waste management, distribution and trading, as well as tourism, arts and crafts.