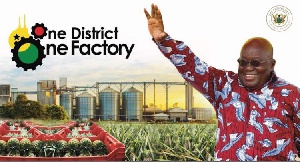 Chief Executive Officer (CEO) of the Ghana Trade Fair Company Limited, Dr Agnes Adu, has called on implementers of the One District, One Factor (1D1F) policy to look at ways of creating industries in the cocoa sector.
According to her, there was the need for creation of value chains in the nation's cocoa sector.

Dr Adu was speaking on the fifth day of the Ghana International Trade Fair, which coincided with the Cocoa Board Senior Staff Association (COSSA) Week celebration held under the theme, 'Increasing cocoa consumption among Ghanaians – the role of COSSA.'

The celebration was aimed at inculcating into Ghanaians the habit of consuming cocoa regularly and also showcasing the investment potentials in the local cocoa sector.

She explained that government cannot industrialize the country in line with the 1D1F policy without paying critical attention to its traditional product- the cocoa bean.

She stressed that conscious efforts must be made to add value to raw cocoa beans locally so that the nation can bring an end to the importation of finished and refined cocoa products such as chocolate.

Touching on the fair, which commenced on February 28 and expected to end on March 7 under the theme: 'Industrializing Ghana, Creating Jobs,' with about 600 participants, she said "this year, we hope to highlight what we are known for. Cocoa is what Ghana is noted for."
This year the focus is on industrialisation. We want to move the nation beyond aid and I believe cocoa is key. We must work to end the importation of cocoa products. We must add value to cocoa beans, she said.

Chief Executive Officer (CEO) of Ghana COCOBOD, Joseph Adu Boahen, in a statement read on his behalf, also stressed the need to invest in creating value chains along the cocoa sector.

"We need to give Ghanaian cocoa farmers the credit for sustaining the cocoa sector over the last century.

According to him, COCOBOD will be embarking on a generic cocoa promotion initiative, indicating that in 2017 the country produced about 986,000 metric tonnes of raw cocoa beans.

He said COCOBOD will this year invest in mass cocoa pruning exercise for farmers nationwide at no charge.