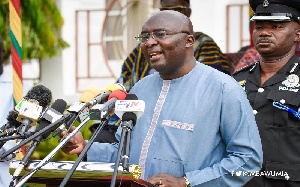 The vice president Dr. Mahamudu Bawumia has reiterated that the government's pledge to allocate $1 million to each of the 275 constituencies will enhance "bottom-up" development of the country.
The governing New Patriotic Party (NPP) during the 2016 electioneering promised to give every constituency a million dollar to deal with problems that are specific to them. In view of the above, the government announced the establishment of three new development authorities – Northern, Middle Belt and Coastal Development – to administer the funds. Parliament has already passed the bills establishing them.

Speaking Friday at the ongoing Regional Ministers' Conference in the Ashanti region, Dr. Bawumia called on all and sundry to support and collaborate with the authorities to collectively ensure development at the local level.

"It is important for each one of us to ask ourselves, how I would make myself relevant to the success of these initiatives. Remember, our children will be our judges in the not so distant future. We each have a role to play. Let us do our part to live behind a better Ghana for the future generations," he tasked.

Dr. Bawumia told the gathering of the Regional Ministers and their deputies that Ghana currently is classified as a middle income country based on certain economic indicators, such as the Country's per capita income, Gross Domestic Product (GDP), Gross National Income (GNI) among others.

However, he warned "all these indicators of economic growth will continue to remain meaningless to our people for as long as they do not reflect in the livelihood of our people who lack basic social infrastructure."

According to him, the situation is of "significant concern" compelling the Akufo-Addo led administration to toil arduously to lay the necessary foundation for rapid development of the country.
He said the vision of the government to develop Ghana beyond aid is on course, saying "our primary vision, to which we are highly committed, is to chart a sustained course to economic growth that will reflect effectively on the wellbeing of every Ghanaian; an economy that our children can look back 60 years from now and be utterly proud that our generation took decisive steps to correct the structural imbalances that undermine growth and poverty alleviation."

"Each one of us has a critical role to play, and in doing so, we need to move away from an era of aid dependency to a regime of self-reliance where we manage our resources effectively. We need, therefore, to identify and redefine our priorities in the most effective and efficient manner in order to attract trade and investment as two key drivers of social and economic growth.

"Indeed, this is underpinned by the clarion call of His Excellency the President of the Republic of Ghana for national unity and a positive change; a positive attitudinal change towards timeliness, judicious use of state resources and a conscientious effort to create national wealth and make this nation a better place for all," he emphasised.

Speaking on why it is critical to formalise the economy, Dr. Bawumia who was once a deputy governor of Bank of Ghana said the government has taken the lead through the implementation of three different key initiatives: the National Identification System, the National Digital Addressing System and Bank interoperability because it believed Ghana cannot develop with aid without formalisation.

Touching on the country's agricultural sector, he stated that the sector is key to national development noting, "it is an engine of growth to move our economy beyond aid."

"It is, therefore, fundamental to boost agricultural productivity to achieve sustainable industrial and agribusiness development as a means of wealth and job creation. Consequently, our Government has placed renewed emphasis on the agriculture sector, pumping in much resource into the sector to facilitate rapid integration to global and regional value chains," he stated.