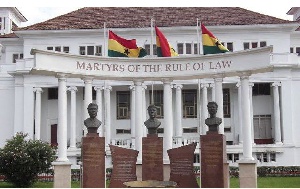 A seven member panel of the Supreme Court presided over by Chief Justice Anin Yeboah has fixed April 22, 2020 to deliver judgement in the suit against the Finance Minister Ken Ofori Atta on the issuance of a 2.25 billion bond.
This was after the apex court had refused an applocation from the Commissiin of Human Rights and Administrative Justice seeking for leave to amend their statement of case.

The panel which also include Justice Jones Dotse, Justice Sule Gbadegbe, Justice Baffoe-Bonnie, Justice Yaw Appau, Justice Gabriel Pwamang, Justice Samuel Marfu-Sau and Justice Prof Nii Ashie Kotey after hearing the parties said the application was irrelevant to the case.

The panel was therefore refused.

The suit was filed by Dynamic Youth Movement of Ghana

RELIEFS

The Group dragged the Finance Minister, CHRAJ and AG to the Supreme Court over CHRAJ's investigations on the $2.25 Billion Bond issuance in March 2017.
The Group is demanding interpretation of Articles 284 , 286 and six other reliefs.

"A declaration that by going beyond investigations to make a pronouncement (of guilt or otherwise) on the 1st Defendant in respect of the allegation of breach of conflict of interest, the 2nd Defendant has contravened Article 287 of the 1992 Constitution.

The groupmis also seeking "A declaration that by interpreting Article 284 of the 1992 Constitution (as disclosed between paragraph 3 of page 127 and paragraph 3 of page 133 of the Report), the 2nd Defendant has contravened Article 130(1)(a) of the 1992 Constitution;

"… A consequential order that the content of the report as specified in reliefs (a) and (b) above be expunged from the Report.

DYMOG is also asking for "A declaration that the failure of the 1st Defendant to declare his shareholding interests in Data Bank Financial Services Limited, Data Bank Brokerage Limited and Data Bank Financial Holdings Limited to the Auditor-General before taking office as Minister of Finance, as found by the 2nd Defendant at page 120 of the Report, contravenes Article 286(1)(a) of the 1992 Constitution;

A further "declaration that the occupation by the 1st Defendant of the office of a director in Ventures and Acquisition Limited, a private company, while in office as the Minster responsible for finance without the due permission of the Right Honourable Speaker of Parliament on the grounds stated by the law, contravenes Articles 78(3) of the 1992 Constitution.