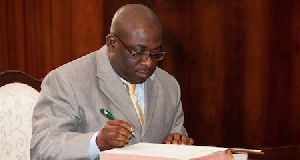 Sun, 2 Nov 2014 Source: GNA
Mr Ato Sarpong, Deputy Minister of Communication, on Wednesday assured Ghanaians that the 2015 budget would help address their fundamental needs and improve their living conditions.
The Deputy Minister, who gave that assurance during a public forum in Bolgatanga for the citizens to engage the government on its execution of projects and policies, explained that the global economic crisis, coupled with the wage bill, partly accounted for the present difficulties in the economy.

He said to help address the problem, government, under the leadership of President John Dramani Mahama, had introduced a lot of measures including the promotion of the consumption of made-in-Ghana goods to address the problem.

The government's negotiations with the International Monetary Fund (IMF) for assistance was another measure aimed at addressing the difficulties in the country, he said, and that those attacking the government for taking that decision should desist from it since the country was a member of the IMF and could ask for any assistance from it.

Mr Sarpong impressed upon workers on strike to return to work and debunked the allegation that government was illegally using their second tier pension contribution.

He explained that such contributions were lodged at the Bank of Ghana because as at that time the activities of the Fund Managers had not been regularised.
Speaking on how the road sector was faring, the Deputy Minister of Road and Highways, Mr Isaac Adjei Mensah, said there had been an increase in road construction under the present government and mentioned that since 2006 the road network had increased from 35, 000 to 78,000 including urban , highways and feeder roads.

He said because road construction was capital intensive, government, through the Road Fund, was doing it gradually and gave the assurance that plans had been put in place to go into private partnership to open up the construction of the Western and Eastern corridor roads.

Participants at the forum complained bitterly about the poor road network in the region, particularly the Bolgatanga Municipality, and appealed to government to look into the problem.

They also impressed upon government to be transparent with the second tier contribution of the Pension Scheme as it was very crucial to the lives of pensioners.

Some of the participants also complained about uncompleted and abandoned government projects and appealed to the government to complete such projects.
Source: GNA