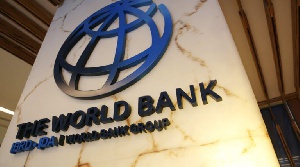 After Ghana defaulted on making coupon payment for the 2030 Eurobond, the World Bank has earmarked an amount of $372 million guarantee payment for the country.
This comes after Government of Ghana on April 14, 2023 defaulted on making the coupon payment after it declared a debt moratorium back in December 2022.

In view of this, the International Development Association (IDA) of the World Bank has since made the $372 million guarantee payment on behalf of the Government of Ghana on April 20, 2023.

Back in 2015, Ghana engaged the World Bank for financial support following a wave of economic challenges and market conditions particularly on the Eurobond markets. The country at the time lacked access to the international capital markets and was saddled with high debts.

The Ministry of Finance earlier requested a policy-based guarantee and a credit from the IDA to raise the necessary funds to repay upcoming debt.

The International Development Association of the World Bank then provided a policy-based guarantee, which allowed Ghana to issue a $1 billion Eurobond series due in 2030. The guarantee was meant to cover up to $400 million in both principal and interest payments.

According to Finance Ministry, the funds were used to re-finance the country's existing debt which was nearing unprecedented levels.
Meanwhile, the government of Ghana later bought back and cancelled $70 million of the 2030 Eurobond, thereby reducing the guarantee payment amount to $372 million.

However, the funds raised through the Eurobond issuance helped Ghana to refinance its existing debt at a lower interest rate of 10.75 percent.

The country was also able to extend the maturity of its debt to an average of 15 years, up from 90 days to two years.

As a result of the current socio-economic challenges in the country, the Ministry of Finance on December 19, 2022, declared a moratorium on certain categories of its external debt, including Eurobonds.

This comes after Ghana reached a Staff-Level agreement with the IMF for an economic bailout programme of $3 billion.

Ghana then launched the Domestic Debt Exchange Programme to restructure its debt as well as request for debt treatment under the G20 Common Framework.
Watch the latest edition of BizTech and Biz Headlines below:







MA/FNOQ