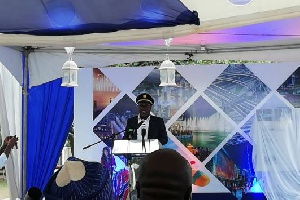 In fulfillment of assurance to reward loyal customers with fantastic experiences, PZ Cussons has launched a Camel promotion dubbed 'Camel Buy and Fly promotion'.
The promotion is designed to reward loyal consumers with over GHC500, 000 worth of prizes including airtime, hampers and 12 all-expense paid trips for 2 to Dubai.

Camel is the leading brand in Personal Care portfolio of PZ Cussons Ghana. Products include the leading antiseptic liquid as well as antiseptic Bar Soap in the country. With 69% Camel Antiseptic liquid now holds majority of the total antiseptic Market share.

To enter the Camel Buy and Fly promotion, consumers have to purchase any Camel antiseptic liquid or Carex Hand-wash with a scratch panel and text the number revealed to short code 1393 which is free of charge.

The 4-month promotion, which will run from September 13 to December 13, 2018 is valid only in Ghana and participation in the promotion is restricted to persons who are legally resident in Ghana.

Employees, family members of employees of PZ Cussons, Distributors and Stockists of PZ Cussons, PHD, Mpedigree, Lampas, and all other suppliers and third parties directly involved with the facilitation of this promotion will not be eligible to participate in the promotion.
Head of Brand Development and Activation of PZ Cussons, Hafsa Arthur, stated that the Camel and Carex brands have always championed the health of the consumer.

"We believe health goes beyond physical health. Our consumers should also have some relaxation time to improve their overall well-being and this is what inspired a national consumer promotion which rewards 12 consumers and their partners with a fun and relaxing holiday."

She added," Our phrase 'Say Yes to Life' simply means Camel ensures that families can go out there and have fun and know that Camel has got them protected."

Addressing the audience at the launch of the Dubai promo, Business Unit Director of PZ Cussons Ghana Ltd, David Afflu, said it is another exciting promotion from PZ Cussons, re-entrenching" our position as the market leader. "

According to him, customers have contributed greatly to the brand including winning awards hence the need to reveal a promotion designed to reward loyal consumers who are at the "heart of everything we do."